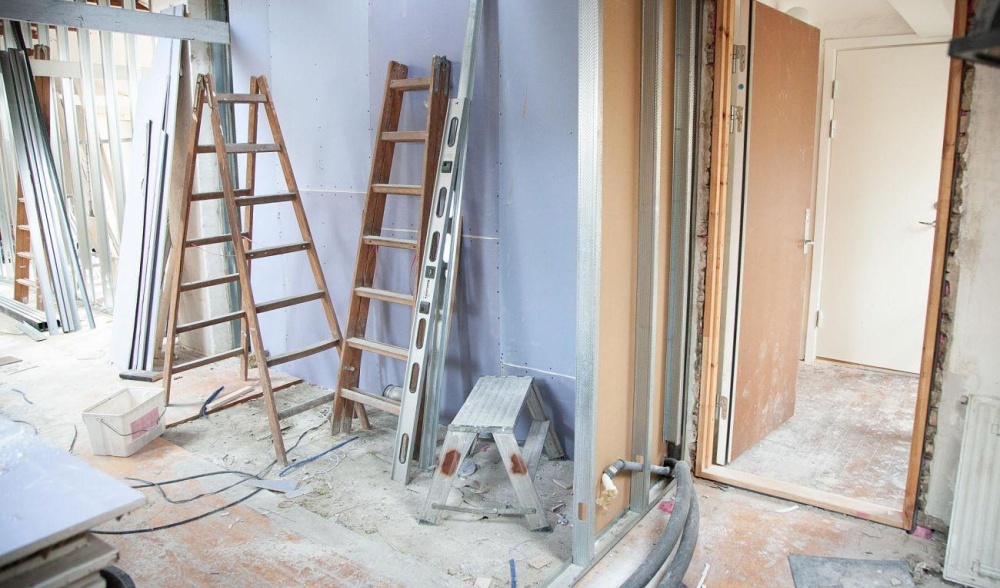 5 Straightforward Tips For Home Improvement
2nd November 2021
As hard as it may be to admit, the work of a homeowner is never over. From repairs to replacements and even full overhauls, chances are, there's always a project that needs completing.
So, whether you're in the middle of a DIY project, or you're looking to upgrade or update parts of your house, here are 5 simple tips and pieces of advice that can help you in your home improvement journey. From conscious planning to sticking to budgets, each technique will allow you to make the renovations you need without breaking the bank.
Why is home improvement important? Well, home is where the heart is, and a house is not a home if it doesn't feel like one.

1. Have a vision for your home
Having an overall vision for the finished product of your home is a great way to get started when it comes to home improvement. Whether you go room by room or take on the challenge of creating the vision for your whole house, having a general idea of what you want your home to look like will prevent any overwhelming feelings, and make it easier for you to make a start.
A great way to picture and envision your ideas is to create a mood board. From colours and textures to styles and furniture pieces, these visuals help you to decide what goes together, and what doesn't, as well as helping you cement or change your interior decisions.
Apps and websites like Pinterest are free online platforms that you can create mood boards with. Brimming with thousands of interior design images and inspirations, these sites can help you put your ideas into a cohesive formation and get to work on making them a reality.
2. Bring old furniture to life
Have you fallen out of love with your old furniture? Has years of wear and tear taken away it's magic? Are you not ready to part ways with your hard-earned cash but you need to replace your outdated sofa?
Lucky for you, you don't have to. Upgrading and upholstering old furniture is not only all the rage these days, but it's also an easy and inexpensive way to replenish and rejuvenate worn-out furniture.
From modernising old cabinets and giving them a lick of paint, to reupholstering old armchairs and sofas, there are plenty of ways you can give your home a new lease of life.

3. Add mirrors to create space
If you're limited on space, or your rooms don't give out much light, a simple home improvement tip of adding mirrors can instantly brighten up any home.
This simple optical illusion is extremely effective and can trick the eye into thinking your home has more space than it actually does. By reflecting light and colours and bouncing it across the room, mirrors allow the eyes to make the room look bigger and brighter.
If you're looking to implement this home improvement tip on a budget, then second-hand shops are the perfect places to visit. Hang them in areas you want to make look bigger like small alcoves or corners. Tall mirrors are also great at drawing the eyes upwards, therefore creating the deception of more space.
4. Keep up to date with regular maintenance
It may seem like an inconvenience cleaning out the gutters every three months or applying sealant on the driveway every so often, however, these regular jobs can save you a lot of money in the long run.
Maintaining your home, and generally looking after it is the best thing you can do to avoid costly repairs and replacements. To ensure you're making time for and remembering to conduct these upkeeps, why not create a list and tick off every routine maintenance job you perform? You should also organise the list into the seasons, as there are certain tasks that may need more attention in winter, and less in summer, or vice versa.
By keeping up to date with the things that keep the daily running of your home in order, you'll be able to continually improve and maintain your house for years to come.

5. Put up shelves in unused wall space
Whether you have a pile of books gathering dust in a corner, or you have a cupboard full of ornamental pieces, putting up shelving in areas of unused wall space will not only add a decorative aesthetic but also rid your home of the clutter you want to keep.
Floating shelves are extremely on-trend right now and add an heir of rustic sophistication to any home. While purchasing these items can be quite expensive, there are ways you achieve this look on a budget.
Why not head to your local demolition yard and source some disused scaffold board? A great project to work your DIY and woodwork magic on, you can easily create a statement piece for little money, all while creating an attractive space for your belongings.
6. Work your home improvement magic and transform your house
By applying any of these tips and techniques, you'll be able to easily renovate and improve your home. From performing regular maintenance jobs to looking at a project with an overall vision, you'll be able to transform and look after your humble abode on a budget.