How to Price Up Your New Bathroom Project
20th October 2023
Since bathrooms are one of the most commonly used rooms in a house, they need regular maintenance and sometimes complete renovation.
In this blog post, we will explore the process of estimating the costs associated with a forthcoming bathroom renovation project. We'll delve into evaluating specific requirements and how to establish a budget for potential bathroom renovation expenses.
How much does a new bathroom cost?
One of the main reasons we tend to put off home improvement projects is because it can be expensive. According to the latest estimates from a leading UK supplier of plumbing and vanity fixtures Bathroom City, the costs for a bathroom renovation project, even a DIY one, can start from £1,914.
If you want to do a bathroom makeover on a tight budget, you can get it done for as little as £1,500. But if you prefer top-notch materials and are willing to spend more, plan for a budget of £10,000. It's a good idea to figure out what's most important to you and what you really need. Then, use the estimated prices as a guide to help you decide where to spend more and where you can save.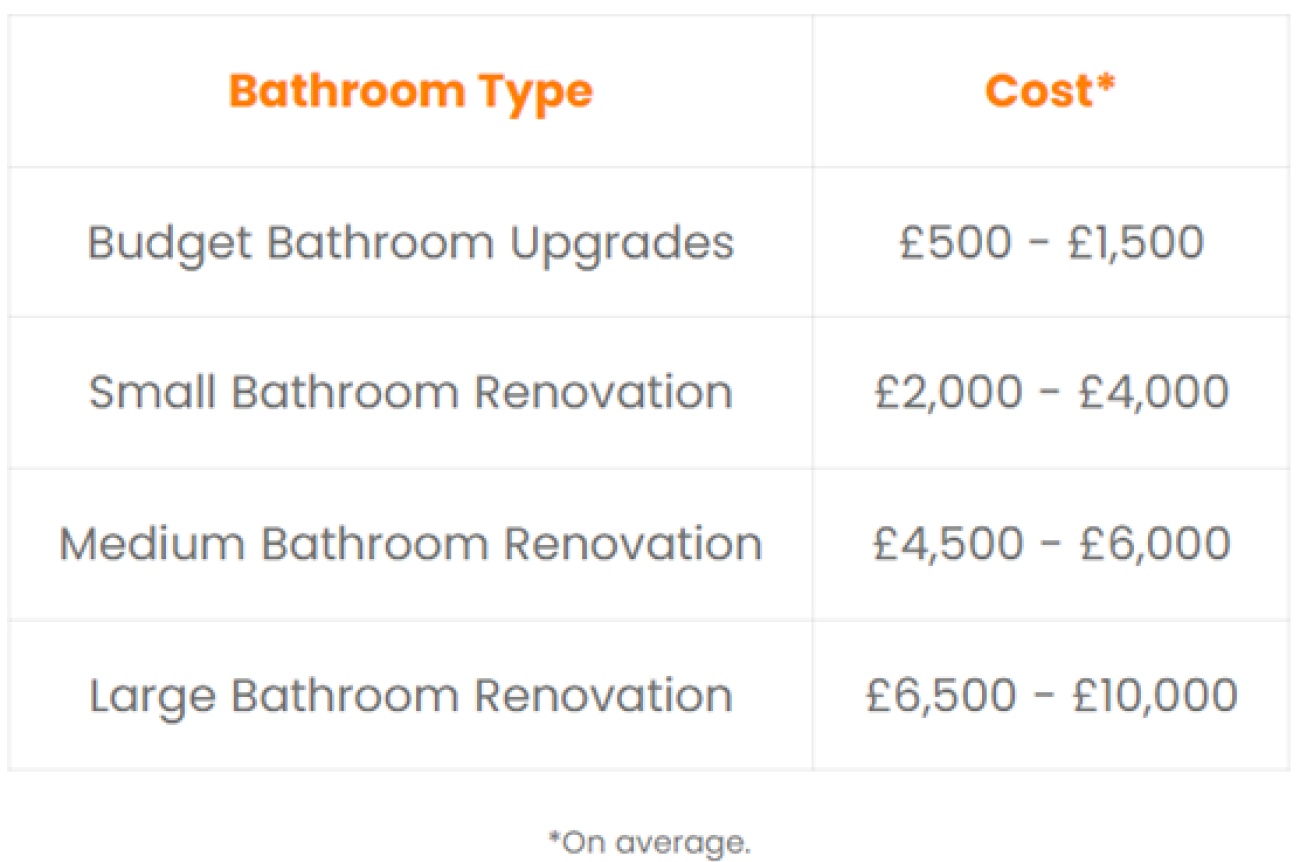 How to price up your new bathroom project
Assess Your Needs and Set a Realistic Budget
You need to clearly define what you want and need, as adding a lot of extras may increase the budget. Try to combine utility with aesthetics to get the functionality you need and the look you want.
Consider the elements you wish to include, such as a new bathtub, shower, vanity, tiles, lighting, and fixtures. Think about the style and design you prefer.
After assessing your needs, do some research and set a realistic budget for your bathroom renovation. Be honest about your financial capabilities and determine how much you're willing to invest in the project.
Determine the scope of your bathroom renovation
Estimated budget: Unbeatable Bathrooms, a Staffordshire-based supplier of bathroom fittings estimates the average cost of a bathroom renovation to be £1500 (partial upgrades and cheaper materials) to £10,000 (full renovation and high-quality bathroom products).
It's important to gauge the scope of your bathroom renovation before you start. How much you want to change inside your bathroom will set the tone for the project's budget. If you want a complete overhaul, for example, it'll cost you a lot more than simply implementing some minor tweaks.
If you're on a budget, you may consider a partial renovation. You can also focus on essential upgrades like replacing old fixtures and updating the tiles.
Funding your renovation with bathroom loans
Loan Amounts: £1,000 - £15,000 (depending on your requirements)
If you're thinking about financing your bathroom renovation project, you have several options to choose from. It's important to explore these options, do your research, and make informed decisions to ensure you get the best possible deal. One of the choices you might contemplate is taking out a loan to cover your bathroom renovation expenses.
Whether you're looking to replace fixtures, enhance functionality, or create a luxurious spa-like atmosphere, bathroom renovation loans can provide the necessary funds.
Oakbrook Loans, for example, provide bathroom loans up to £15,000.
Making your new bathroom energy efficient
Make sure you think about some of the ways that you can make your new bathroom more energy efficient as this may help you save money in the long run. For example, you may opt for LED lighting, low-flow faucets and shower heads, as implementing some of these things could help you save on your energy bills.
Factors affecting the cost of your bathroom renovation
When you're planning your new bathroom make sure you think about everything that may affect your budget
Materials
Your bathroom renovation budget is significantly influenced by the materials you choose. Materials like tiles, flooring, fixtures, countertops, cabinetry, paint, lighting fixtures, accessories, and insulation all have varying price ranges. While options like ceramic tiles, vinyl flooring, and laminate cabinets are budget-friendly, natural stones, hardwood floors, and custom cabinetry can increase costs.
For e.g., Home How ranges price estimates for ceramic tiles to be approx. £15-£45 per square meter to £80-£100 per square meter for granite ones.
Labour
If you need experienced professionals to do your bathroom renovation, it's smart to get at least three quotes to compare.
Make sure these quotes cover all the work you want to be done. It is important to keep in mind that the cheapest option isn't always the best. You can take your time to carefully review the quotes before making a decision to ensure a successful bathroom renovation.
Costs may vary due to various factors like the size of your bathroom, the amount of work needed or location. However, Unbeatable Bathrooms estimates that the cost of a bathroom fitter, per day/ per fitter is approx. £150 - £250.
Bathroom size
Bigger bathrooms mean more room to fill, which can increase your costs. But even small bathrooms can become expensive if you don't manage your budget carefully.
Wrapping Up
Having a luxurious bathroom designed to our own specifications is the dream. It can transform your home and create a haven of comfort and relaxation. By setting a realistic budget and researching costs, you can ensure a successful project outcome.