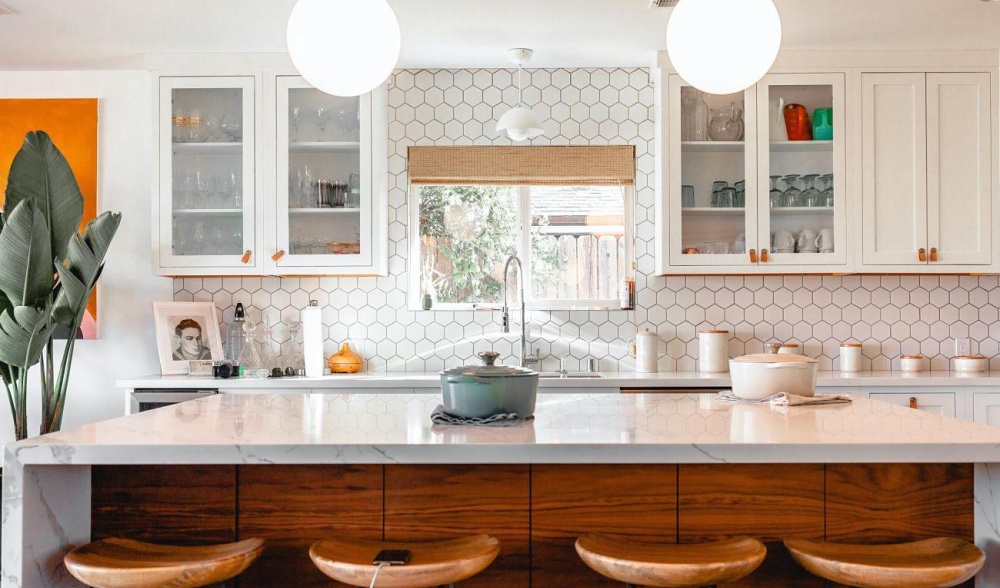 How to Price Up Your Kitchen Renovation
29th October 2021
The Starter Guide to Pricing Up a New Kitchen
For many homeowners out there, designing, planning and creating your own kitchen is an exciting and monumental moment. Whether you're training to be a Michelin Star chef or you're ready to get your interior design hat on, your new culinary space will make for a family-orientated haven. But, before you get ahead of yourself and start daydreaming about the shiny new result, you should break down the average prices of a new kitchen so you can anticipate how much it may cost.
But, where do you start? From ensuring you have a budget and sticking to it, to researching each appliance thoroughly to not only get the best quality but the best price, these vital factors need to be carefully thought about before diving headfirst into the process.
So, if you need a little guidance, here are the essential new kitchen components and what to expect price-wise.
Kitchen units & worktops
Your kitchen unit and worktops are essential for the progression of your kitchen remodel. As the shell of the overall space, the pricing of these units all depend on the quality of the materials, the installation itself, the size of your kitchen, and the aesthetic finish you want them to have.
If you have a small galley kitchen, the cost will, unsurprisingly, be lower than larger open plan spaces. The average galley kitchen will require, on average, eight units. This works up to achieving around 10m² worth of storage space, which has been calculated to cost around £1,500 (Magnet) with laminate worktops. Larger kitchen models typically require around 20 units, which allows you a generous 30m² of storage. However, this extra space can typically set you back around £3,500 or more (Wren) for the units alone.
As well as pricing up the cost of the units and worktops themselves, there's still the installation costs, appliances and decoration aspects to add on, too. There are ways you can reduce the cost of these further requirements, for example, by finding out whether it is cheaper to find your own installer after purchasing your units, or buying your worktops through a supplier and using their recommended installers. However, this will be covered in more detail further on.
Kitchen installation
Like units and counters, it's important to know the average installation costs of a new kitchen, and how to ensure you get the most out of your money. With new kitchens having the potential to add between 6-8% extra value to your home, it's essential you employ the best installation methods and installers to complete your remodel.
For ease, this section will detail the average cost of a new kitchen fitting when employing professionals to complete the installation. The average price is £8,000 however, depending on the location and complexity of the project, the cost may reduce or increase. This charge is based on an average-sized kitchen for a family and does not cover the appliances, accessories, or the supply of materials - this amount only covers the labour cost.
To break it down, the typical day rate for a kitchen fitter ranges from £120-240 based on an eight hour day. As well as the kitchen installer, you will also need electricians and plumbers to complete the project. However, it's worth looking into companies that provide multi-skilled workers that can take on the job as a whole. Their rates may be higher, but when compared to hiring extra bodies for electrical and plumbing work, it could actually work out cheaper.
Kitchen appliances
According to Which? an all-new, typical kitchen collection, including every appliance you need (washing machine, cooker, built-in oven, hob, fridge-freezer, and dishwasher) could cost you a modest £1,500. Add that to your average installation cost of £8,000, your typical kitchen could set you back at least £10,000 once you've added furniture and decor. For those searching for more top-of-the-range, luxury appliances, including an American-style fridge freezer and a range cooker hood, you're looking at a steeper £5,000, for upwards of £13,000.
Whatever your budget will allow, these are the most typical and average price ranges for kitchen appliances of certain levels - only you know what your budget will allow.
There's even a guide to the best kitchen appliances, along with advice on what makes a great purchase, and what you should actively avoid.
At the end of the day, budgeting can really help you achieve a great kitchen without breaking the bank. From the brand to the quality of the materials used, to the cost of your installation and your geographical location, everyone's budget kitchen is going to be different. Start by looking at your own finances and deciding how much you are prepared to spend.
Hopefully, this information will help you clearly plan and execute the kitchen of your dreams. You'll be able to precisely anticipate the cost of the project as a whole and stick to your budget accordingly. Happy kitchen planning!