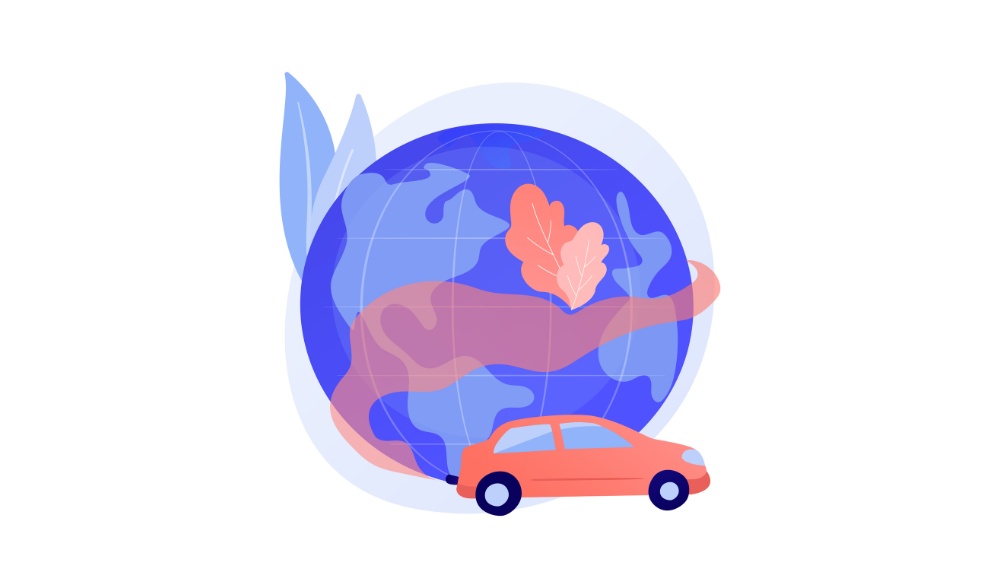 ULEZ Expansion 2023: How to Know If Your Car Is Compliant
27th October 2023
The ULEZ zone has expanded from August 29, 2023. It's a big move aimed at keeping our air cleaner. If you're uncertain about whether your car meets ULEZ compliance standards, here's some information you might find helpful.
What is ULEZ Expansion 2023?
The ULEZ, or Ultra Low Emission Zone, is undergoing a significant expansion in 2023, marking a crucial development in London's efforts to combat air pollution.
The ULEZ expansion now encompasses all 33 London boroughs, reaching areas bordering the M25. However, it's crucial to note that the M25 itself remains unaffected by these emissions standards. This provides an alternative route for vehicles that do not meet ULEZ emissions standards, even when crossing the Greater London Area boundary.
The ULEZ operates 24 hours a day, seven days a week, throughout the entire year, including weekends and public holidays, except for Christmas Day.
How to navigate the ULEZ Zone?
To help drivers identify when they've entered the ULEZ, clear signage is in place across all London boroughs and the City of London. These signs feature both ULEZ and Low Emission Zone (LEZ) designations, as these zones share the same geographic area. It's important to note that the LEZ targets specific vehicle categories like lorries, vans, buses, minibuses, and coaches that exceed certain weight limits.
Advance warning signs are strategically located at entry points along the ULEZ boundary. For those approaching the zone, additional signage provides early notice. There are no physical barriers or toll booths. Instead, cameras capture your vehicle's number plate and cross-reference it with a database to determine emissions standard compliance and payment status.
It's also important to research between various zones in the same geographic region, such as ULEZ, LEZ (Low Emission Zone), and DVS (Direct Vision Standard). While these schemes share the same coverage area, they serve distinct purposes and target different vehicle types.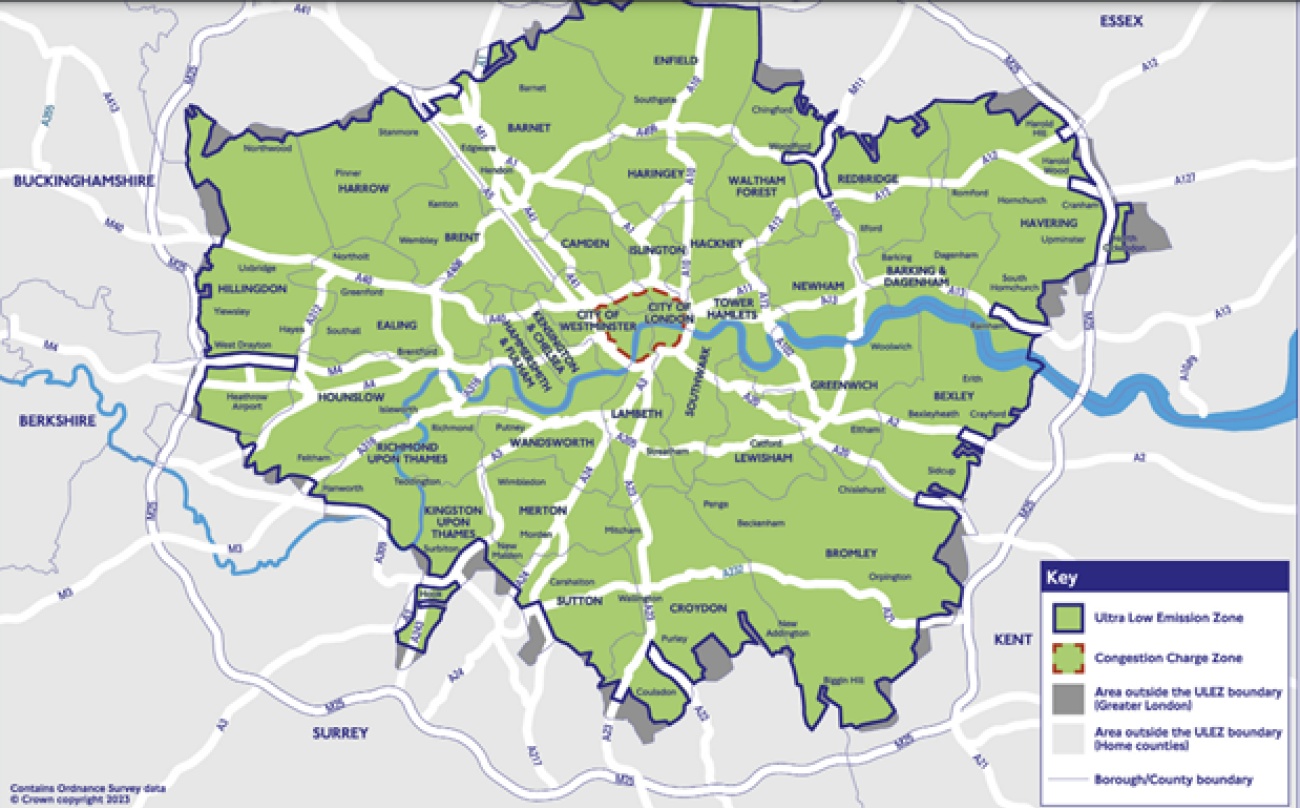 Which vehicles are affected?
As per the guide to the 'Ultra Low Emission Zone operating across all London boroughs' published by TfL:
If you've got a car, motorcycle, van, or even something special like a motorised horsebox or a pickup truck (as long as it's up to 3.5 tonnes) and minibuses (up to 5 tonnes) running on either petrol or diesel, you need to make sure they meet the ULEZ emissions standards.
These standards are based on Euro emissions criteria, which basically set the rules for how clean your vehicle's exhaust should be.
Here's the good news: Most new diesel vehicles sold since September 2016 and new petrol vehicles sold since January 2006 should already meet these emissions standards.
On the flip side, if you're driving a lorry, a big van, or any of those heavy-duty specialist vehicles (over 3.5 tonnes) or buses, minibuses, or coaches (over 5 tonnes), you don't have to worry about the ULEZ charge. However, watch out for the LEZ charge if your vehicle doesn't meet those emissions standards.
You can check if your car is ULEZ compliant by visiting Transport of London's ULEZ checker tool or you can check your car's V5C registration certificate which also contains information about its emissions standard.
What are the New ULEZ Emission standards?
According to the information published by TFL, the new ULEZ rules require that all cars comply with the following emission standards. These standards determine how much CO, NOx, particulate matter, and other pollutants that newly manufactured petrol and diesel cars are allowed to release.
● Euro 3 for all motorcycles (L category)
● Euro 4 (NOx) for all petrol vehicles
● Euro 6d (NOx and PM) for all diesel cars
Any cars that do not comply with these standards will have to pay £12.50 to drive in the ULEZ zone. As for the penalty for non-compliance, that has been increased from £160 to £180.
Which vehicles are exempt?
Certain drivers and vehicles are eligible for a temporary 100% discount from the Ultra Low Emission Zone charge (ULEZ). Here are some of the exemptions:
| | |
| --- | --- |
| Exemption Category | Exempt from ULEZ Charge |
| Blue Badge Holders | Yes |
| Wheelchair Accessible Vehicles | Yes (Until Oct 2027) |
| Disability Benefits Recipients | Yes (Until Oct 2027) |
| NHS Patient Reimbursement | Yes |
| London-Licensed Taxis | Yes |
| Business & Charity Grace Period | Yes (Short-Term) |
| Minibuses for Community Transport | Yes (Until Oct 2025) |
| Historic Vehicles | Yes |
| Certain LEZ-Exempt Vehicle Types | Yes |
| Showman's Vehicles (With Mods) | Yes |
Please note that specific eligibility criteria and documentation may apply for each category, for more information please refer to TfL's discounts and exemptions page here.
Meanwhile, Motorway, a UK-based online used-car marketplace has also added that 100% electric vehicles (since they are zero emission) and hybrid cars (only if they meet Euro standards) will be exempted. This means petrol hybrid cars must comply with Euro 4 and the diesel ones with Euro 6.
What to do if your car isn't ULEZ compliant?
There's no need to rush out and buy a brand new or electric vehicle. Remember, as per TfL's ULEZ compliance report, 9 out of 10 cars seen driving in outer London on average are already ULEZ-compliant.
Still, if your car is not ULEZ compliant and if you meet certain eligibility criteria, you might be eligible for the Scrappage Scheme
introduced by the Mayor of London. Under this scheme, you can either receive a payment to scrap your non-compliant vehicle or opt for an annual bus or tram pass.