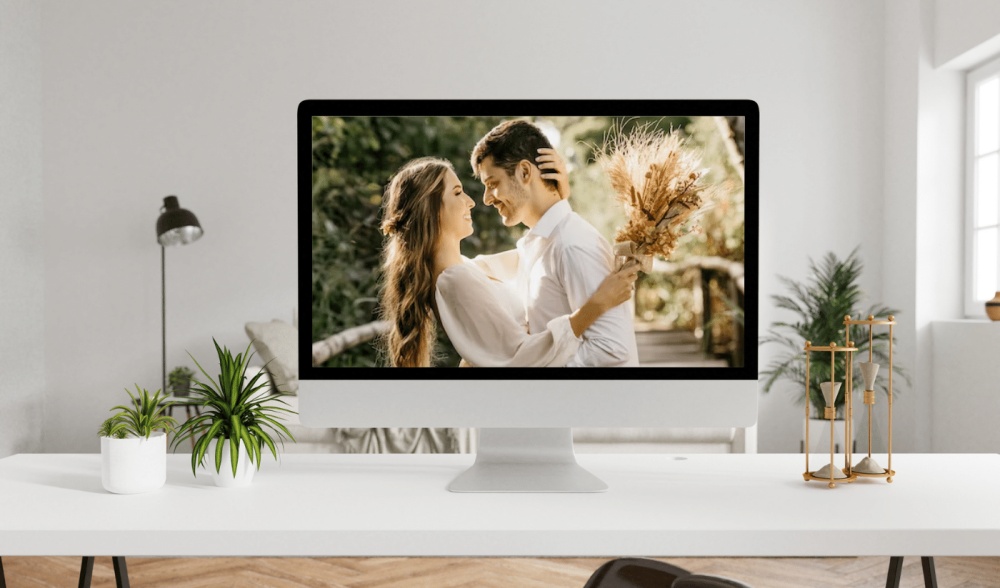 Why You Need a Wedding Website on Invitations
14th September 2023
A couple of decades ago, if you'd asked someone whether they had a wedding website on their invitations, you'd have gotten some confused looks. But in recent years, the 'wedding website' has become growingly popular and more accessible.
These digital platforms are designed to offer the betrothed a space in which to add whatever wedding-related items they want, whether that be a link to their gift registry, a contact form to RSVP more easily, or a page to list key information about the big day.
It makes sense, then, that your wedding invitations would include the wedding website, and here, we're going to explore the idea.

What is a Wedding Website?
They're exactly that – a website for a couple's wedding. The website is usually made anywhere from 3 to 6 months before the wedding and remains active for a similar time frame following the day itself. The website might just feature one homepage, or a whole range of different pages for different parts of the wedding, eg. itinerary, photos and videos, etc.
Often the domain may remain active for longer (up to 12 months, for instance) if it's being used as a place to donate towards a honeymoon.

The Benefits of a Wedding Website
There are many benefits to using a wedding website for your big day, including the following:

Brings together all the important information in one place. The thing about weddings (and their planning) is that they usually involve lots of pieces of disparate information. With a website, you have all the pertinent information in one location, making things much easier and less stressful.

Removes the issue of everyone contacting you with the same questions. Having a wedding website on your invitations you can point guests towards will save your phone from being inundated with calls or queries about the wedding. Then, if they still have questions having looked up your site, they can contact you through a contact form; having a dedicated email inbox for your wedding queries feels nice and separate from constantly being pestered for information through your phone.

Gives guests more of your story. Naturally, most guests at your wedding will know at least some of the story behind your relationship with your significant other, otherwise, let's face it, they probably wouldn't be invited. That said, it can add that special touch to the wedding-day occasion if everybody is fully up to date with your story as a couple thus far.

Makes it easy to share photos and videos with guests after the wedding. Sure, you could upload them to Facebook or Instagram, but who's to say all your guests are on those platforms? Or follow you/are friends with you? Better yet is to have a space on your wedding website where you can upload both the professional photos and videos you had taken at the wedding, and even offer a space where guests can upload their own photos or videos from the day.

Has timings for the day's event. Whether you're invited to the entire day or just the reception, you want your guests to know where to show up and when. The nice thing about a website is that you can then format that in an aesthetically-pleasing way, like a timeline, rather than some boring by-the-numbers, bullet-pointed itinerary.
How Much Does Creating a Wedding Website Cost?
The costs of having a wedding website designed can vary wildly. You can attempt to do the website yourself and this will keep costs to an absolute minimum. Here all you'll have to do is pay for a domain/a web hosting fee, and possibly for an easy-to-use website platform like WordPress, Wix or Squarespace. This should keep costs below £200 for you (if not much lower), perhaps preferable to those working on a tighter wedding budget.
If, however, tech isn't really your thing, then your best bet is to hire someone to design the website for you. As with every profession, web designer rates vary on several factors, including demand, experience and expertise. As a rule of thumb, however, you might expect to pay a website designer anywhere between £200 (on the very lowest end of the spectrum) and £1,000 on the upper end.

Wedding Websites for Honeymoon Donations
Wedding websites aren't just good to help out with the wedding day, they're also useful to help with your honeymoon, too. Increasingly, couples are looking to establish a honeymoon fund for guests to contribute towards, rather than the traditional gift registry.
Without a wedding website, this can be more difficult to organise or signpost people towards. In turn, this can lead to more queries, more questions and more wasted time overall for you as a couple. And if there's one thing you don't want more of when planning a wedding, it's time-wasting.
By having a link on your website to your crowdfunding campaign – which is one of the best ways to set up your honeymoon fund as it's both transparent and gives a visual indication of how your fund is progressing – people can donate both quickly and easily.

Final Thoughts
Wedding websites should most certainly be added to your invitations because it will lead to an easier, more organised day (and honeymoon afterwards) for both you and your significant other, as well as the guests attending.
If you want to take out a loan to help you hire a website developer for this task, then check out one of Oakbrook Loans' wedding loans, here.